The company
The story
Philosophy
Organization
Innovation
Quality
The company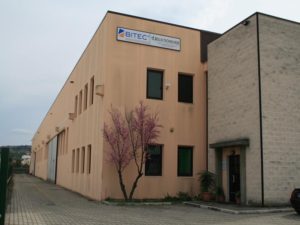 Bitec S. R. L Water and Wastewater Technologies

It is active in the following areas:
Water Supply,

Primary and secondary treatment of water,
Waste water purification,
Pumping in sewage,
Industrial Plant Engineering
Irrigation.
Bitec S. R. L is structured in four distinct lines of activity:
Construction and production

on its own know-how and commercialization, with its own brand "Bitec", of machines and equipments that are used in the already mentioned sectors of water treatment and purification;

realization of prefabricated plants

for pumping stations, water treatment, sewer and purification and supply of connected technical services;

Specialized design Consultancy

and engineering services to be given to construction companies public works, to technical studies, to institutions (in particular bodies of integrated water cycle) and industries;

Marketing

of systems, machines, equipment, accessories and spare parts used in the indicated sectors, together with service, repair and maintenance activities.
It operates throughout the national market, with its own sales network, made up of local agents and retailers.
The registered office, the technical-commercial and administrative department is located in Pescara, in an easily reachable area both from the city centre and from the main motorway and airport nodes.
It has modernly organized offices, with updated information technology and qualified personnel.
The whole range of production is the result of a close symbiosis between technical capacity, specialization, productive elasticity and conscious design of innovative or alternative machines to those present on the market, respecting the highest quality standard and Efficiency of the final product.
Particular attention is paid to the technical update with specific literature and participation in specific conferences for the sector. This philosophy allows to offer on the market high quality products at very low cost compared to those of most manufacturers.
The story
Philosophy
Organization
Innovation
Quality